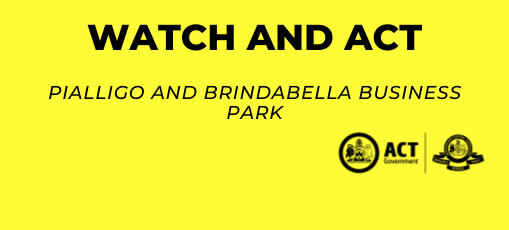 This is a WATCH AND ACT level bushfire warning.
You need to prepare now for a possible evacuation.
The ACT Emergency Services Agency (ESA) advises that people in Pialligo, Brindabella Business Park and surrounding areas could be affected by a bushfire in Kallaroo road, conditions are changing and could get worse.
If you do not need to be in this area, for your safety, do not enter or return.
Canberra Airport is closed. People located in Brindabella Business Park are safe where they are. Please STAY in this location.
A relief centre has been established at Dickson College, Corner of Anthill Street and Phillip Avenue. It is open for people from the fire affected areas for relief, respite and support, receiving children and domestic pets. It is also accessible for people with disabilities.
You need to be ready to follow your Bushfire Survival Plan. If you do not have a plan you should start preparing now because the situation could get worse. Properties are under threat at this time.
Call Triple Zero (000) immediately if you or your property is under threat. Act now. Do not wait to see firefighters or signs of fire to act.
What you should do:
Activate your Bushfire Survival Plan if you have one
If you do not have a Bushfire Survival Plan identify where you will go if you need to leave
Pack your important documents, medication, and animals ready for transport
Put on protective clothing (e.g., a long-sleeved cotton shirt, boots with thick soles)
Go to esa.act.gov.au for regular bushfire updates
Prepare family members for possible evacuation
If you do not have access to a car arrange alternative transport in case of evacuation
Inform your family, friends, and neighbours of your plans see if they need help preparing
Position your car to ensure a safe exit from your location
Leave now if you have decided to evacuate early.
Current situation:
The fire is travelling in a South Easterly direction towards Pialligo Avenue.
The fire is out of control and firefighters are on scene. Under current weather conditions, the fire is difficult to control.
Firefighters are currently on scene and conducting property protection.
If conditions change, firefighters may not be able to protect every property. You should not expect a firefighter at your door or in your street.
People in the area may be affected by smoke, which could reduce visibility and air quality. People in the area may be affected by smoke, which could reduce visibility and air quality.
Keep up to date:
Check the ESA website (esa.act.gov.au)
Follow ESA Twitter account (@ACT_ESA) and ESA Facebook account (@ACTEmergencyServicesAgency)
Download and monitor the NSW RFS Fires Near Me mobile app
Stay tuned to your local radio station
Contact Access Canberra on 13 22 81.
Next update will be provided by 3:00pm or if the situation changes.