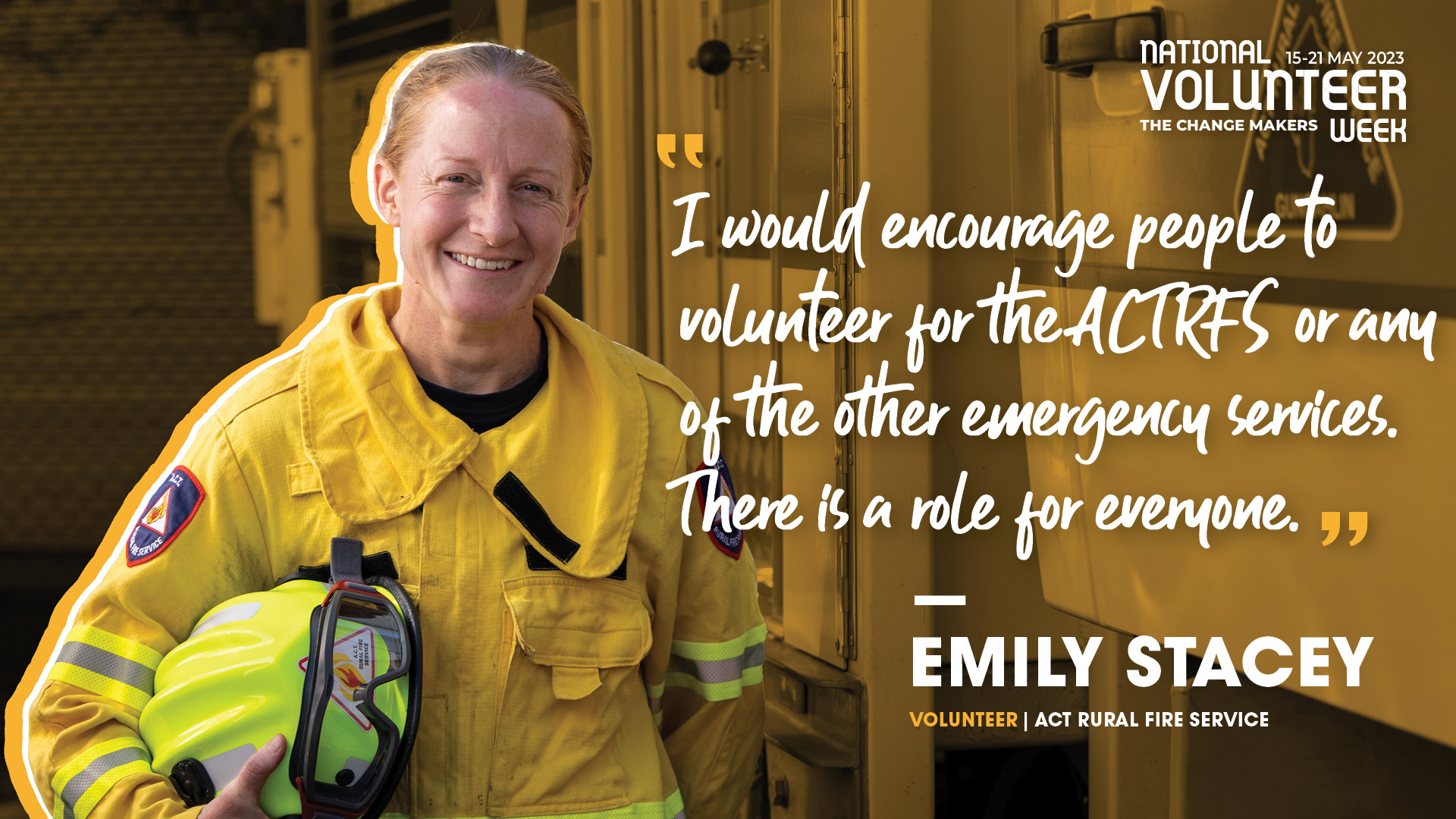 Volunteering has always been something that has been very important to Emily. Being a teacher and an avid volunteer in sporting events and local running groups, Emily knows well the profound impact that volunteers can and do have on the Canberra community. 

So, when fires ravaged major parts of the country in 2019-2020 she felt helpless and wanted to provide support where possible. Being at the stage of her life where her children were a little bit older, when she found out the ACT Rural Fire Service (ACTRFS) were recruiting, she couldn't put her hand up fast enough. Being a firefighter was always something that she had wanted to do. 

In her role as a volunteer with the ACTRFS Emily completes a range of tasks and although she hasn't been to an active fire yet, she has been very involved and busy over the last three years.  

When she first started volunteering in 2020 as part of the COVID-19 response she would deliver food to those who needed it. When the pandemic calmed down she started to get herself involved in more community engagement activities such as volunteering at school fairs, showcasing what ACTRFS do and showing off their 'really cool' fire trucks.  

She also regularly assists with Hazard Reduction burns across the capital. Hazard reduction burns are an important land management technique that may be undertaken for a variety of purposes, including to reduce fuel loads and protect infrastructure, or for ecological or cultural reasons. 

Emily and her team also regularly take part in training and fire simulations so if there is a fire that she does have to assist with, she is ready to go straight into action. 

However, Emily's favourite thing about being a volunteer is the community engagement. As a school teacher she is a very community minded person and loves every opportunity to educate others on what she does.  

For example, sometimes when she leaves class her students will ask "why are you dressed as a firefighter" and she proudly responds, "because I am one", and that sparks a conversation about why she volunteers with the fire service or a chat about fire safety, and is an opportunity for her to share the message and the work of the ACTRFS. 

Emily says one of the best things about being a member of the ACTRFS is learning skills that are transferable to other areas of both her professional and personal life. For example, in her role as a teacher, thanks to the ACTRFS she is now able to lead groups through emergency situations in a more logical and calm manner as she can now understand how to better help emergency services as a member of the public, particularly a member with the responsibility of large groups of children. 

When it comes to balancing her professional and personal life with her time volunteering with the ACTRFS, Emily says that for her this is not an issue. She is lucky that as a teacher she doesn't work school holidays, which is generally when things are busy for the ACTRFS. She also has a very supportive husband who has always encouraged her to follow her passion and dreams from day one. 

Emily doesn't see herself stopping being a volunteer anytime soon. It is something that is a part of who she is, she has always wanted to help others. 

If you are thinking about becoming a volunteer, particularly with the ACTRFS, Emily encourages you to give it a go. 

"I would encourage people to join the ACTRFS or any of the other emergency services. There is a role for everyone. If you're not necessarily super active or you don't want to be on the 'front line,' there are plenty of other things that need to be done, that need support and are very important." - says Emily. 

Being a member of the ACTRFS for Emily is like being a part of a family and is really fulfilling a lifelong dream of hers. 

On behalf of the ACTRFS and the ACT Emergency Services Agency, we want to thank Emily for being a part of our emergency services family and for her continued support and commitment to the service.


For Emily, her volunteering journey began shortly after the infamous 19-20 bushfire season.