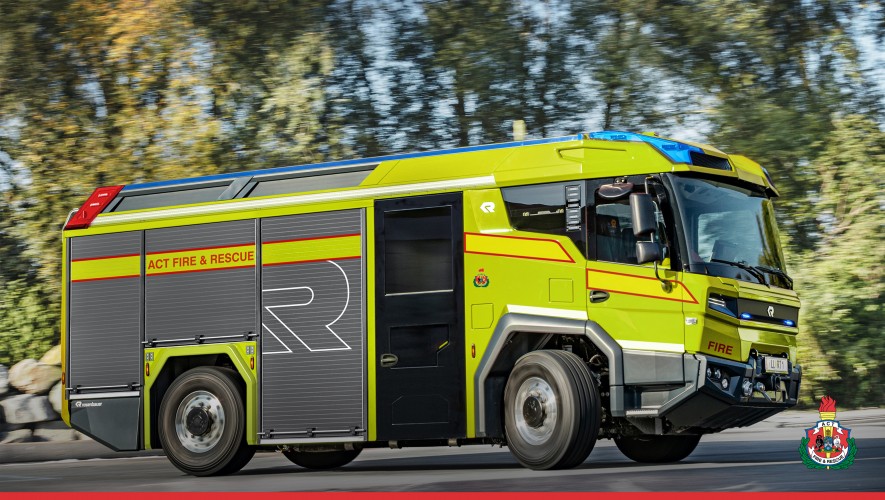 The ACT Emergency Services Agency has formally signed an agreement with Rosenbauer to take delivery of Australia's first Plug-In Hybrid Electric Fire Truck in the first half of next year.
In August 2019, the ACT Government announced it would work with Rosenbauer to pioneer the engineering of its Concept Fire Truck to suit Australian fire services.
In signing an agreement to take delivery of this Plug-In Hybrid Electric Fire Truck, the ACT is leading the nation in showing how emergency services organisations can transition to zero emissions fleets.
Minister for Police and Emergency Services Mick Gentleman said the new truck would feature a range of benefits for ACT Fire & Rescue firefighters, in addition providing a significant reduction in emission produced compared to a conventional diesel engine fire truck.
"This pioneering new vehicle will be ergonomically designed and includes a walk in, walk out entry to support firefighters' backs and knees as they enter and exit the vehicle," Minister Gentleman said.
"Firefighter safety and comfort is at the forefront of the design of this new truck and it will feature a better use of its internal space and greater crew protection in comparison to the existing vehicles in our fleet."
Minister Gentleman said the arrival of the Plug-In Hybrid Electric Fire Truck was a crucial component in the ACT achieving its emissions reduction targets.
"The ACT Government has committed to reaching a target of net zero emissions by 2045. Investments in new technology such as the Plug-In Hybrid Electric Fire Truck are a crucial pillar in how we can be innovative in achieving this," Minister Gentleman said.
"Transitioning just one of our existing trucks to an electric fire truck is forecast to reduce diesel fuel consumption by about 185,000 litres over a 10-year period."