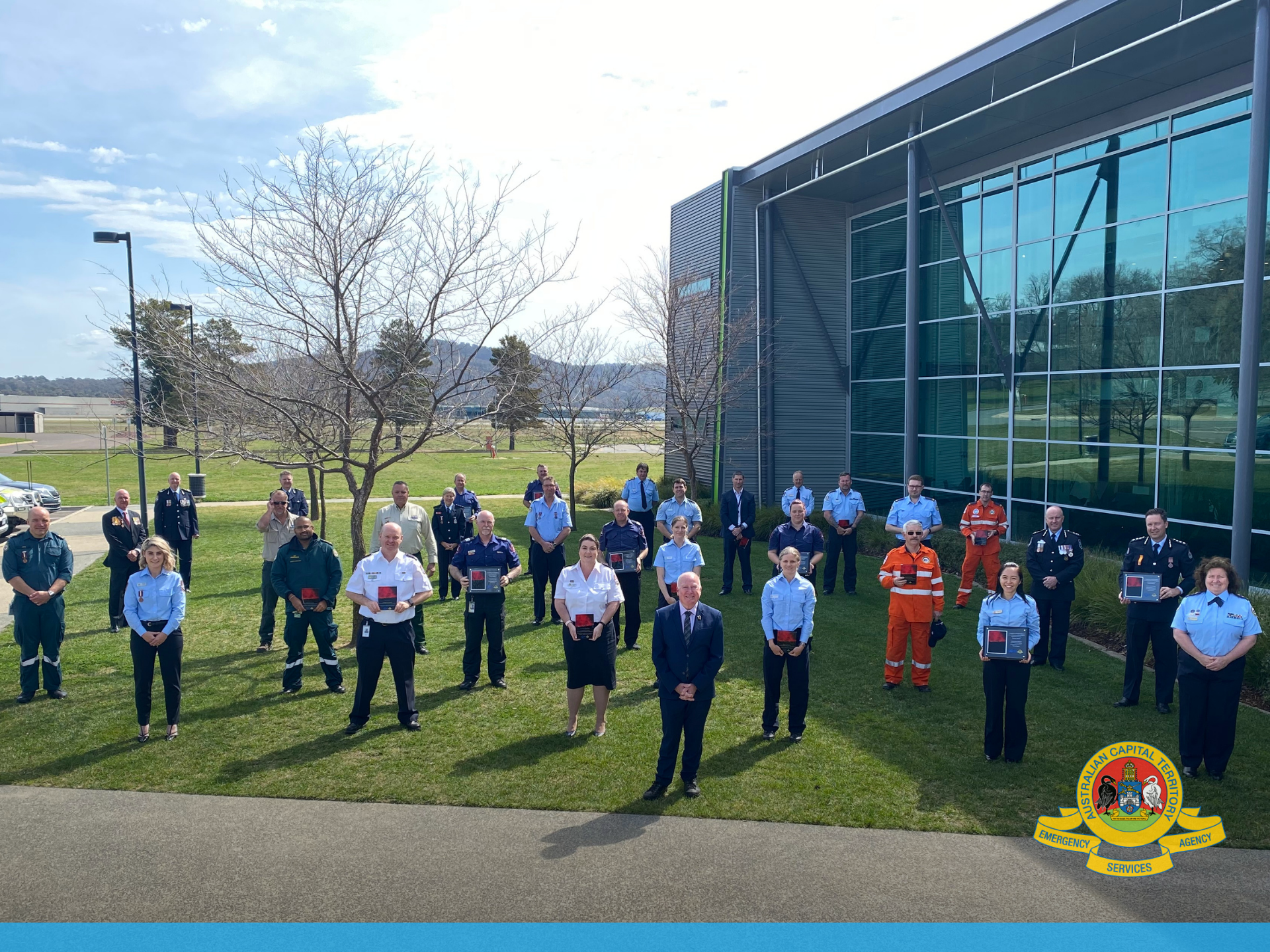 Everyday, emergency services personnel go above and beyond in their chosen roles to care and protect the Canberra community. The Community Protection Medal annually acknowledges a select few of those selfless individuals who show their dedication and commitment; making the ACT a safer, better place to live.
This year, five people from the ACT Emergency Services Agency (ESA) and one person, Susan Smith, from ACT Policing have been presented with the Community Protection Medal. 
So, let's get straight into learning a bit about each recipient from ESA!
ACT Ambulance Service: In November, John Berry will have been with ACT Ambulance Service (ACTAS) for 10 years. He played an important role during the last bushfire season, as part of the ACTAS management team that was asked to support the various bushfire fighting efforts the ESA was involved with. Through a collaboration of efforts from within the management team and by the on-road commitment of frontline staff, ACTAS was able to effectively support these operations. The community appreciates your efforts during that time, John. Thank you!
ACT Fire & Rescue: Throughout his career, Pat Jones exceeded expectations in his efforts to assist the community with his expertise – whether that be here in Canberra, or overseas! Pat has been deployed as a liaison officer for Australian United Nations Urban Search and Rescue (USAR) deployed to the Christchurch earthquake in February 2011 and has also worked in a number of other USAR roles. Congratulations, Pat!
ACT Rural Fire Service: Simon Butt has been in the ACT Rural Fire Service (ACTRFS) since 2000. As well as selflessly protecting the Canberra community, Simon has also performed multiple roles in deployments all over Australia, as well as Canada and the United States. Being part of the RFS family is in Simon's blood! His Great Grandfather was a member of NSW RFS, his wife has been a member longer than Simon has, and their 16-year-old son has recently joined! We are lucky to have your family's involvement!
ACT State Emergency Service: Michael Hayes has been with the ACT State Emergency Service (ACTSES) since 2003 and has worked hard to ensure he is able to help the community to the best of his ability. He has the qualifications of: Storm, Search and Navigation; Flood Boat Operator; Chainsaw (Feller); 4WD, Operational Driver (Medium Rigid Truck Licence); Staging Area Manager (SAM); Land Based Flood Rescue (LBFR); Bushfire Awareness; First Aid; Perform Inspection(Safety Equipment); Working With Vulnerable People (WWVP)… Just to name a few! Thanks, Michael. The community appreciate all your efforts keeping us safe.
ESA Enabling Services: Kaylee Rutland is the Senior Director for Public Information & Engagement at ESA, and has dedicated nearly 14 years to community service. Kaylee is recognised within the communication fraternity for her compassionate messaging, as well as her ability to stay calm during trying times. During the last bushfire season, she spent several sleepless nights in her office and away from her family ensuring clear and regular messages reached the community. In addition, Kaylee has also been deployed interstate several times to assist with emergency communications, recently assisting with fires in Northern NSW, Northern QLD, and the NSW Central Coast. Congratulations, Kaylee!
Following an incredibly tough bushfire season, this year we also see a number of commendation awards presented as part of the Community Protection Medal event. These include each ACT Rural Fire Service brigade, ACT Rural Fire Service HQ, members from ACT Ambulance Service and ACT State Emergency Service, ESA People, Culture and Training, ACT Parks and Conservation Service and more individuals from across ESA HQ.
Again - thank you all for the tremendous effort you put in for the sake of the community, and a massive congratulations on your awards.
Image Credit: Gary Hooker