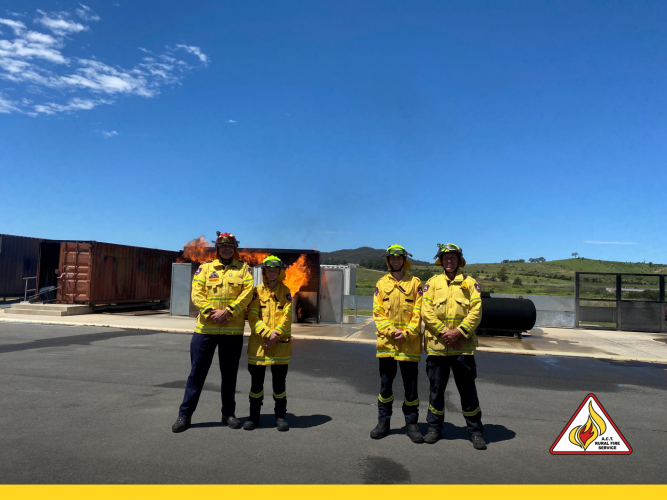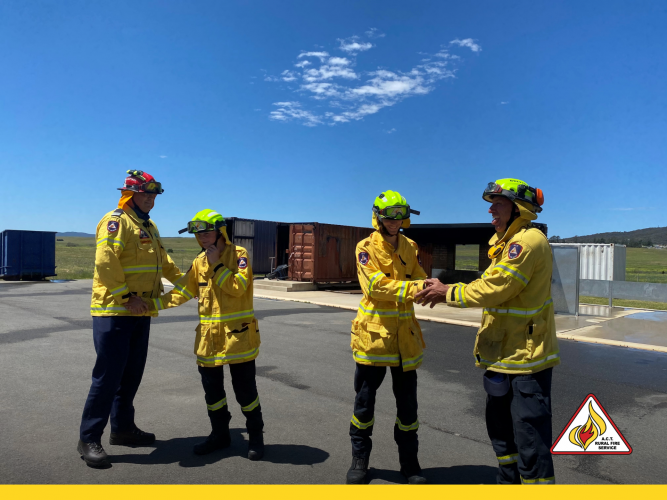 It's a family affair at the ACT Rural Fire Service – with many people joining to experience the service with their relatives.
The latest ACT Rural Fire Service Bush Firefighter course saw two recruits join their dads in the service!
Pictured above is Simon and his son Jack, as well as Brett with his son Dylan.
Simon and Jack's story
You could say a desire to help the community is in Jack's blood… Simon has been a serving member with ACTRFS since 2000, and his mum was a member for several years. Jack's Aunt and Uncle serve with SES and RFS respectively, his Grandfather – defence, and his Great Great Grandfather was a Deputy Captain with NSW RFS!
Talk about family history!
Simon is delighted to welcome his son into the service, saying "I'm very proud that Jack made the choice to give back to his community. The fact he chose ACTRFS makes me very emotional…. Watching Jack come into it on his own as a young man makes me burst with pride."
And hopes Jack enjoys it as much as he does.
"I've met so many great people who all just want to lend a hand to others in their time of need. The satisfaction working and training with a team and then being able to go out and make a tangible difference is a wonderful feeling."
Jack is looking forward to doing something practical to help the environment.
'Onya, Jack!!
Brett and Dylan's story
Dylan's pre-school drawings show his interest in firefighting started from a young age, and now, he's carrying on the family tradition of being a rural firefighter after successfully completing the ACTRFS Bushfire Firefighting Course in late 2020.
Brett has been a serving member with ACTRFS for more than 15 years and is stoked to see Dylan join his mum and dad within the service.
"I feel very proud that he has followed our family tradition of firefighters, I'm looking forward to working alongside my son, where we can continue to learn and grow together.
Our family tradition of firefighters started with my Great Grandfather Charles, Fire Captain of the Condobolin Fire station for many years during 1930's to the 1950's. His photograph is still in the present-day fire station in Condobolin. My Grandfather George was also a firefighter in the 1950's to the 1970's. My father Neil is still an active firefighter in the NSWRFS."
Brett is excited to see Dylan learn valuable skills and companions as a volunteer.
"The camaraderie of the service is to be commended, people from all walks of life doing what we are passionate about, developing our personal and team skills on a wide range of training with opportunities that we wouldn't have gained from anywhere else."
Dylan's little brother Harrison has also expressed interest in joining in 2021.
Welcome aboard, Dylan!