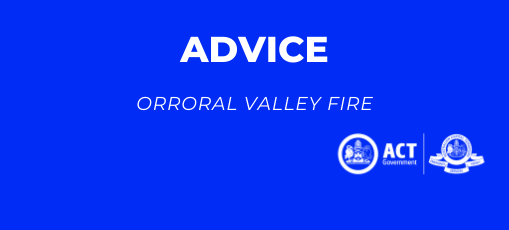 This is an ADVICE level bushfire warning.
The Orroral Valley Fire has been downgraded to an ADVICE level bushfire warning.
There is active fire at the Orroral Valley Fire, and community members in Tharwa Village, Boboyan Road, Apollo Road, Top Naas Road and Nass Road need to remain vigilant.
Monitor conditions and know what you will do if the fire threatens.
If you do not need to be in this area, it is still best for your safety to not enter or return. People in Banks, Gordon, Conder, Calwell and Theodore should continue to monitor conditions and stay up to date.
The Bureau of Meteorology has predicted increasingly challenging fire weather for the coming weekend, driven by extremely high temperatures and low humidity.
ESA advises the community to take this time to prepare and be ready to follow your Bushfire Survival Plan. If you do not have a plan you should start preparing now because the situation could get worse.
There is currently no immediate threat to properties in Canberra suburbs. Call Triple Zero (000) immediately if you or your property is under threat.
Current situation:
There is limited activity on the eastern and northern edge of the fire. There is an increase in fire activity on the western side of the fire.
The fire is out of control. The size of the fire is currently 14,904 Ha.
Firefighters are on scene patrolling and strengthening containment lines. The ACT's Specialist Intelligence Gathering (SIG) helicopter will conduct aerial surveillance throughout the day.
People in the area may be affected by smoke, which could reduce visibility and air quality.
Keep up to date:
Check the ESA website (esa.act.gov.au)
Follow ESA Twitter account (@ACT_ESA) and ESA Facebook account (@ACTEmergencyServicesAgency)
Download and monitor the NSW RFS Fires Near Me mobile app
Stay tuned to your local radio station
Contact Access Canberra on 13 22 81
For the most up to date information on road closures visit ACT Policing Traffic Twitter (@ACTPol_Traffic) or TCCS road closures map at tccs.act.gov.au
New South Wales (NSW) residents should monitor the NSW Rural Fire Service website and NSW Fires Near Me App for advice and information about fires burning in NSW.
Next update will be provided by 4pm today or if the situation changes.