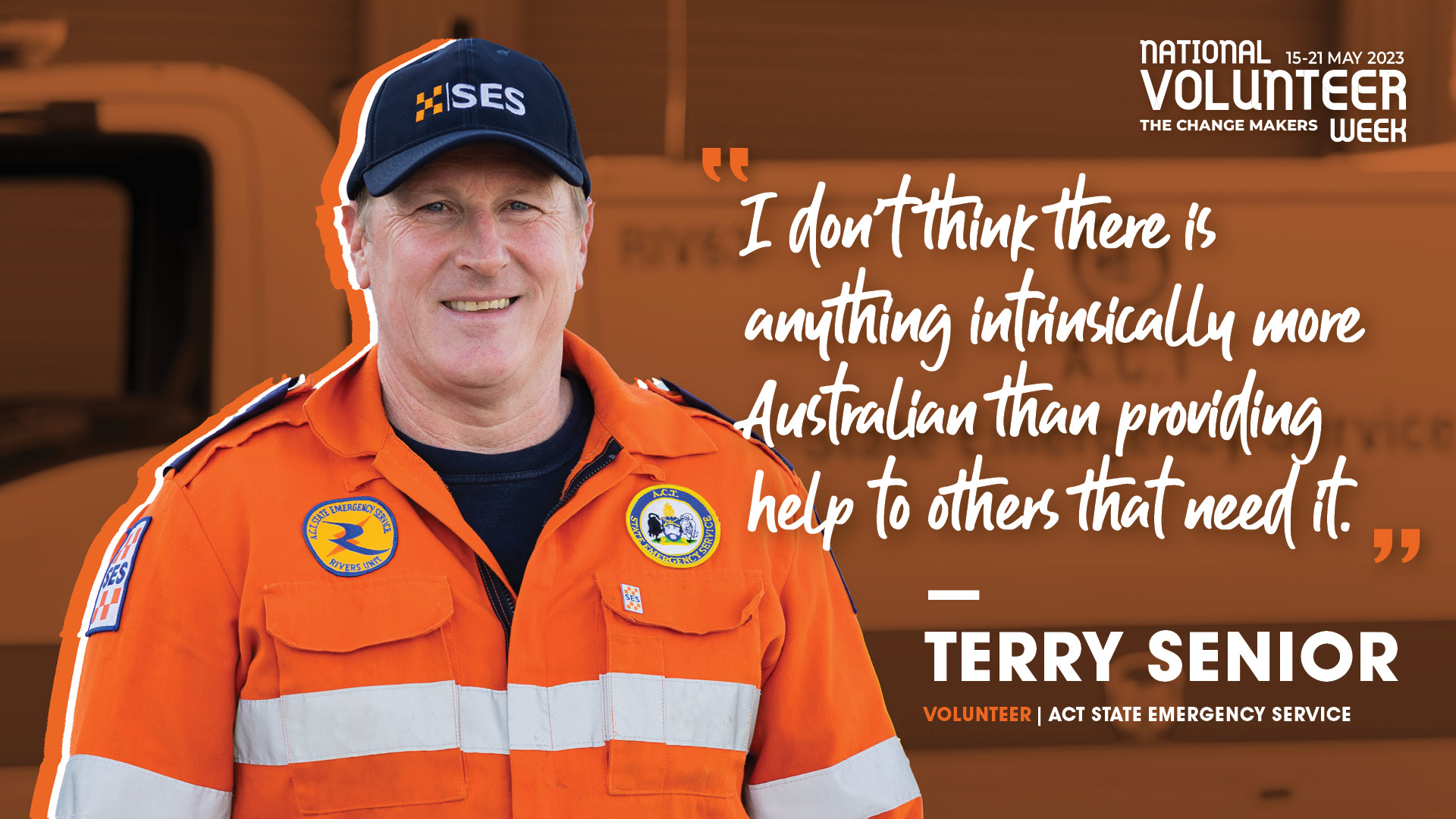 There are many volunteer opportunities across the ACT that help the Canberra community, but for Terry the ACTSES resonated with him the most. He loved the services role in incident management and with his previous experience with the Australian Defence Force (ADF) felt he could really bring and utilise his skills in this space.
As an ACTSES volunteer Terry says that you never really know what you will be doing. He says, it is the swiss army knife of emergency services. One day they might be helping the community get to safety during a flood and the next they might be putting a tarp on someone's roof to temporarily protect their home during a storm. They also help with jobs such as parking duties, chain sawing down dangerous trees, traffic control, air control for helicopters and even assist in searching for missing persons. At times they can work closely with the Australian Federal Police (AFP), the ACT Rural Fire Service (ACTRFS) and ACT Fire & Rescue (ACTF&R). In addition to this they could also be deployed across Australia to help other states and territories during their time of emergency too. 
As a passionate volunteer with ACTSES Terry has many experiences that stand out to him. Late last year he was deployed to South Australia (SA) to assist the community with the ongoing flood response in the Murray Valley, where he drove their specialist pump vehicle all the way from Canberra to SA. He has also helped out in numerous storm responses across the country. However, an experience that stands out to him is a one-on-one moment that he had with a member of the community.
 
Early last year Terry was assisting the NSW State Emergency Service with the flood response in the Hawkesbury region. Here unfortunately many locals were displaced. So, Terry and his fellow volunteers, after doing some clean up, decided to walk around and make some welfare checks. When doing these checks there was one person who was in a house that was very isolated. It was the home to an elderly man who had been living in his home for 50 years. The conditions of the home were not good. There was mud and debris everywhere as well as there being no access to electricity, water and food. However, when Terry knocked on the door the occupant answered with a big glow on his face. He was so happy that there was someone here that he could talk to and see how he was going. This was something that really moved Terry. 
 
All the other jobs they were doing were very important, but it was then that Terry truly understood the importance of the simple human act of turning up and seeing someone and asking, hey, how is your day going.
 
And that's something that Terry wants other volunteers to be aware of if they are thinking of joining the ACTSES. That when people see you in that uniform, they see you as a helping hand, someone who is there to help make things better, and that can be a lot to carry on your shoulders. However, for Terry, this is something he is more than happy to do.
 
When it comes to balancing his professional and personal life with being an ACTSES volunteer Terry says that he is very lucky that he has both a supportive employer and a supportive family behind him. They understand his passion for the service and make it easy for Terry to go and assist the community.
 
It's safe to say that the ACTSES has had an impact on Terry's life. Terry says that before the ACTSES he considered himself a bit of a loner. Now he has really come out of his shell.
 
"What the SES has taught me is that I've got a lot more to offer. I've got a lot more to give people and it's uncovered things that I already had in me that I didn't think I had. So, in a way, it's sort of challenged areas that once upon a time I didn't want to be challenged and that has really made me grow as a person." says Terry.
 
When not volunteering with the ACTSES Terry also volunteers his time with his local sporting club, clay target shooting, where he helps set up the range, complete general maintenance duties, be a safety officer and helps out with the books and payment fees.
 
Terry says that when he leaves this earth he wants to have a piece left behind to say that he's made a difference, to make things better than it was the day before.
 
Terry certainly has made a difference here in the Canberra community and for that on behalf of the ACTSES and the ACT Emergency Services Agency we would like to thank Terry for his ongoing support and commitment to the service.

For Terry Senior, joining the ACT State Emergency Service (ACTSES) was something that he did because it aligned with his strong morals. He loves it and wants to help people during times of need. And for Terry the ACTSES is the epitome of that – it is a group of people that do things for others that are in no personal interest to themselves apart from the greater good of humanity.