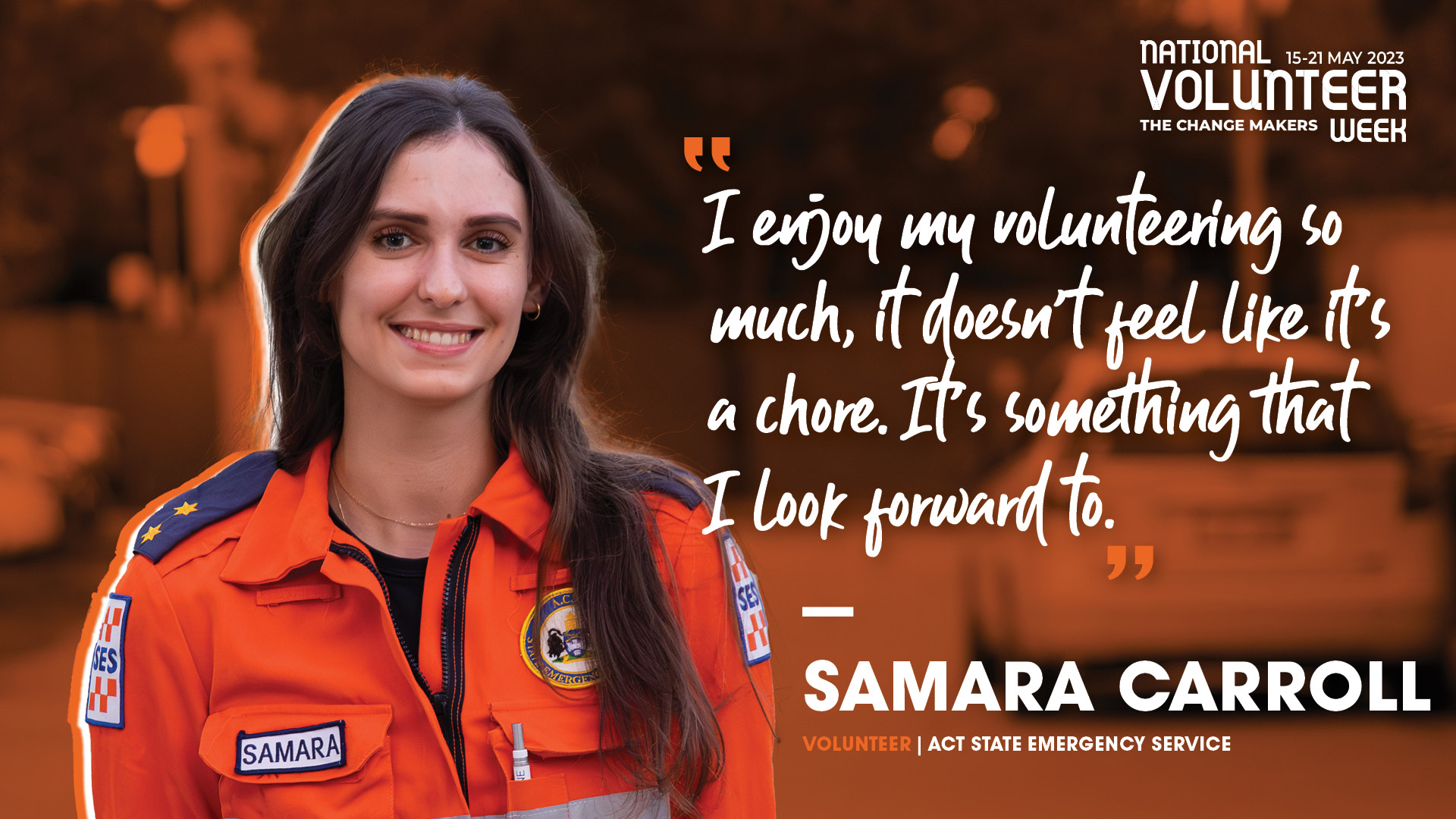 She remembers growing up in the capital and seeing ads to join the ACTSES, always intrigued by the idea. Then again whilst at university she finally took up the opportunity to join, thinking this would be a great father – daughter bonding experience.
 
As an ACTSES volunteer Samara says that she mainly assists with storm and water damage responses in the community. This includes erecting tarpaulins on damaged roofs and undertaking temporary property repairs. This also involves removal of fallen trees and other debris to provide residents with access to their doors and driveways.
 
In the 2019-20 bushfire season she assisted her fellow volunteers from the ACT Rural Fire Service evacuate people from their homes, and in the height of the COVID-19 pandemic even delivered food and resources to different community centres throughout the ACT. Basically, as an ACTSES volunteer you never know what you could be doing.
 
However, one of her more memorable experiences was assisting on a missing persons search with a few other members of her unit. This search in particular was time critical as the person had a medical condition that required immediate care. Samara and her team covered a lot of ground when they received the notice that the missing person was found. Although not physically locating the person, Samara was incredibly proud and grateful to be a part of the search effort. The feeling of being involved in a team that ultimately saves a life is incredibly rewarding and one that trumps her memory as an ACTSES volunteer.
 
Samara loves that as a volunteer she can assist the community in meaningful ways. However, her favourite part about being a volunteer is the people that she gets to meet and connect with in her community that she otherwise would have never crossed paths with.
 
Being an ACTSES volunteer has really boosted Samara's confidence. Before joining her unit, Samara considered herself to be a quiet and reserved person who rarely put up her hand and spoke up. Now, with the help of the ACTSES she has challenged herself to take on leadership roles and work in vulnerable positions that she previously wouldn't have felt comfortable in.
 
Samara admits that at times she does find it hard to balance being a volunteer with her personal and professional life, particularly being someone that works fulltime. However, the reason she keeps coming back every day is because she loves it. To her it is not a chore, it is something she looks forward to every week.
 
Samara encourages anyone who may be interested in volunteering and helping the community to give the ACTSES a go. She has really loved watching the service become more diverse, seeing a larger uptake of women and younger people, strengthening the unit. She hopes to see more of this in the future. She believes that a diverse team is a strong team.
 
It is members such as Samara who help build the ACTSES into the organisation that it is today. On behalf of the ACTSES and the ACT Emergency Services Agency we want to thank Samara for her ongoing support and dedication to the service.

For Samara, the ACT State Emergency Service (ACTSES) truly is a family affair, having joined with her dad five years ago and even encouraging her sister to volunteer.