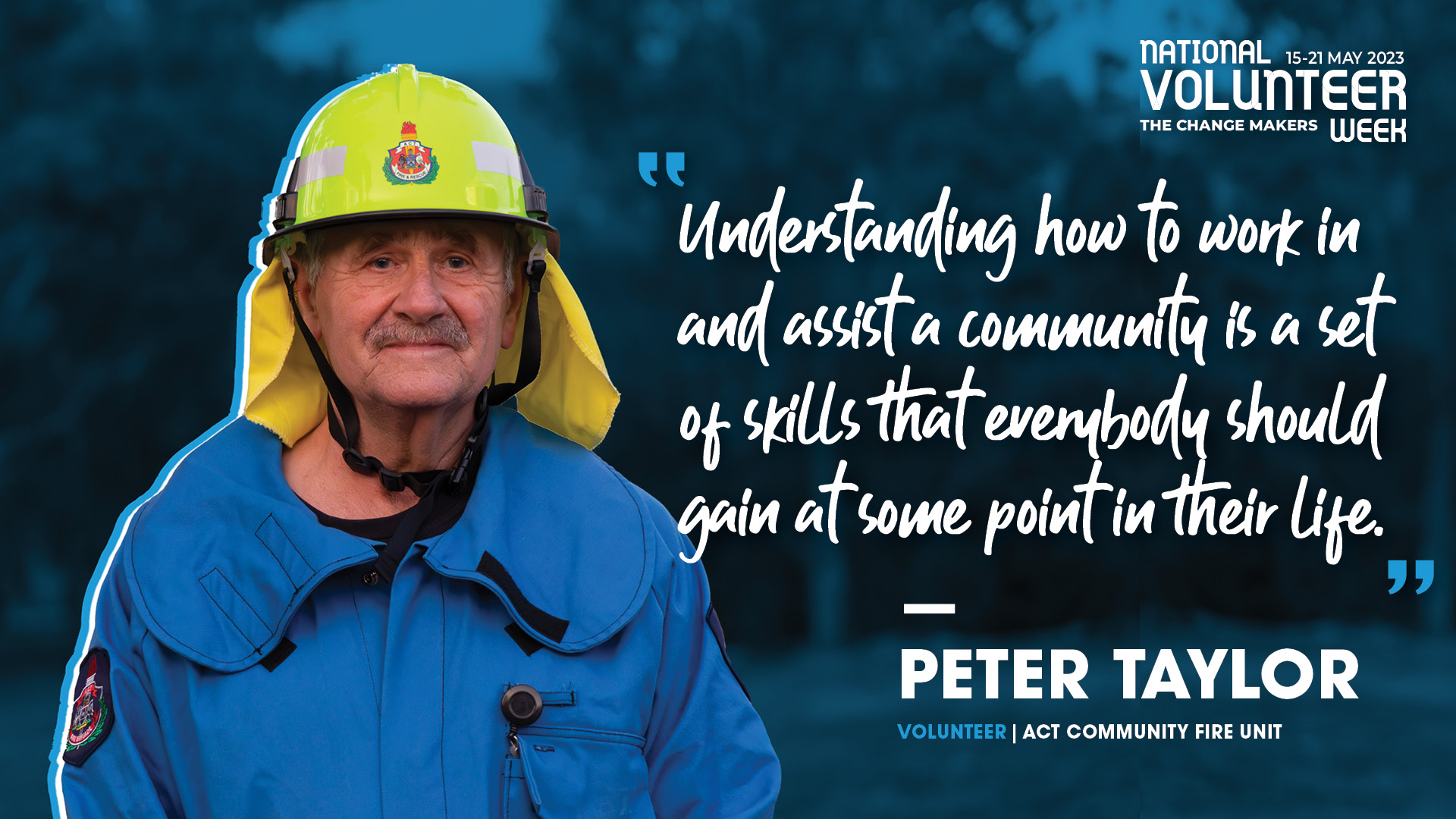 He started thinking about it in 2003, the horror year where bushfires ravaged the ACT, including the street that he now lives on. Having also grown up in the Adelaide Hills, an area that was hit hard by fires in 1983, when he heard about the CFU on his very own street he thought it would be a really good idea to join.
 
As well as protecting the community, Peter saw his involvement in CFU being something that could allow him to meet more people in his area and connect with his neighbours.
 
Peter's role as a CFU volunteer sees him working closely with our ACT Fire & Rescue (ACTF&R) firefighters. In the event of a fire in his area, Peter and his fellow volunteers set up their CFU trailer and liaise with ACTF&R on the course of action required. Having a resource that understands the neighbourhood, the assets and the risks is vital when responding to a bushfire on the urban fringe. Hence why the CFU trailers are strategically placed in urban areas close to bushland that have a heightened risk of fire.
 
Peter's CFU trailer is located on the side of his street and contains all the basic equipment required to fight a fire including hoses, helmets and radios. When not responding to a fire Peter and his peers ensure that this trailer is properly maintained. The trailer is also used during CFU training exercises which are completed regularly to maintain the knowledge and response of our volunteers.
 
CFU members also play a huge role in community engagement and education on bush and grass fire safety. At the beginning of every hazard season, they will often participate in a neighbourhood clean-up encouraging residents to dispose of green waste, loose leaves and any other fire risk as well as participate in the annual CFU Saturday. CFU Saturday is a day where CFU volunteers actively engage with and educate community members in their area on their risks as well as encourage potential volunteer recruitment.
 
However, for Peter, one of the most memorable experiences he has had as a CFU volunteer was the infamous 19-20 fire season.
 
Peter and his unit conducted door knocking activities to check in on their community, ease the anxiousness and provide support where needed.
 
Peter remembers this as a gratifying experience. Engaging with their neighbours and providing them with reassurance helped de-escalate a stressful situation. They took this opportunity to educate homeowners on fire safety and how to prepare themselves with a survival plan. The community were thankful for the CFU volunteers showing up, providing valuable information and reassuring them during a time of great anxiety for many Canberrans.
 
When it comes to balancing his personal and professional life with being a CFU volunteer, for Peter this is something that he finds quite easy. Being retired, Peter sees being a CFU volunteer as a responsibility that is an important part of his life. It is a way that he can stay connected with his local community by giving his time to support a dedicated team of fellow volunteers.
 
However, Peter does admit that he won't be a volunteer forever, at least not in the capacity that he is now. He understands that as he gets older he will need to step back, and in this regard is passionate about is succession planning. Getting the next generation ready to fill his shoes.
 
Peter encourages anyone to join the CFU, particularly those who may be a bit younger, to help diversify the service. He believes being a member of CFU truly does make you a better community member. It also teaches you a set of skills that you otherwise wouldn't be able to gain in another setting.
 
When not volunteering with CFU Peter volunteers his time with the Australian National University as an honorary Associatie Professor. He also supports the Woodlands and Wetlands Trust partnership responsible for managing Mulligan's Flat and Jerrabomberra Wetlands Nature Reserves.
 
On behalf of the ACT Emergency Services Agency and ACTF&R we thank Peter for his continued commitment and dedication to the CFU.

Peter's volunteering journey with the CFU began 10 years ago and becoming a volunteer with emergency services had been something that had been on his mind for quite some time.