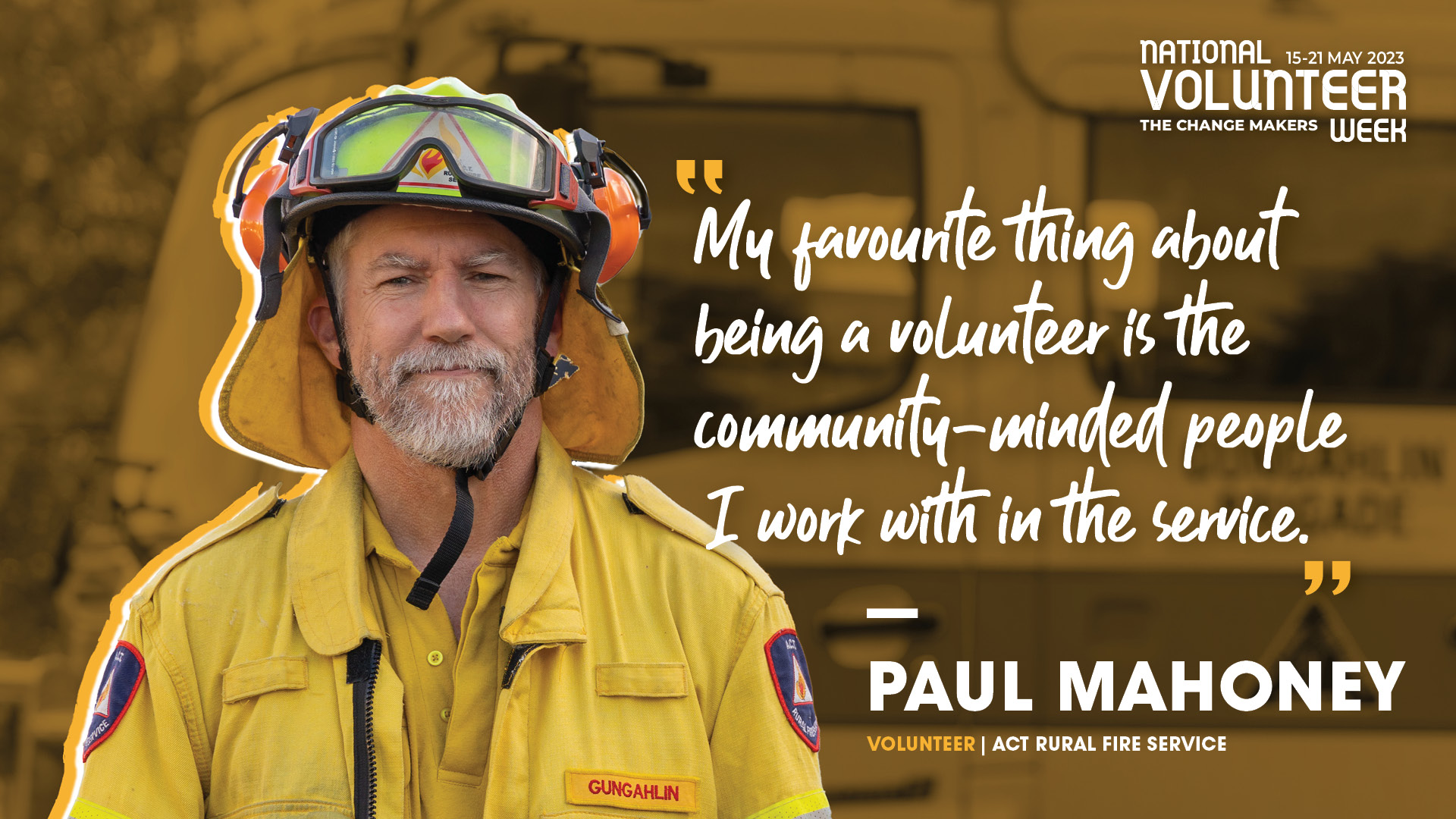 Paul always wanted to be a member of the ACTRFS. He has always been an outdoors person and keeps himself relatively fit. He also has a strong belief in the importance of community and the responsibilities of people to contribute to the community in which they live.
 
So, when he made the decision to join the ACTRFS, for him it was an easy choice to make. He only wishes that he had made it sooner.
 
As a volunteer Paul has spent a lot of time at the end of the hose fighting fires. However, he also took the opportunity very early on to gain the qualifications required to become a remote area firefighter.
 
Being a remote area firefighter involves potentially getting in a helicopter and flying out to a fire that can't be reached in a conventional vehicle. You then are winched down onto the fire ground and fight fires using hand tools, working with your teams to try and control a blaze and keep the community safe.
 
Paul has also in his time acted as a crew leader and has travelled interstate to fight fires in places such as NSW and Tasmania, and overseas in Canada.
 
One of the best parts about being a firefighter, in Paul's opinion, is the places he gets to travel. Although they can be ravaged by fire, even in their worst state they can be beautiful and they always teach you a lot about yourself and the world.
 
For example, when Paul was deployed to Tasmania, he flew each day into a very remote area of Southwest Tasmania. When he was in the helicopter he couldn't get over how breathtaking the scenery was. It was a part of the country that he otherwise would have never been able to see. Another highlight was of course being in Canada where Paul remembers they would funnily enough do calisthenics to warm up at the start of each day and even fought fire while it was snowing.
 
More recently, although tragic, he is proud to have been a part of the firefighting efforts in his hometown during the infamous 19-20 bushfire season.
 
However, his favourite thing about being a firefighter with the ACTRFS, Paul says, is the people.
 
He loves interacting with great community minded people that have a common purpose to him. It is what makes him come back every day to continue to volunteer his time with the service.
 
Paul's time as a volunteer has also opened him up to an array of career opportunities in the ACTRFS as well.
 
"I think my love of the service is one of the reasons why I sought out the opportunities to become a paid employee of the service as well. The great experiences that I've had as a volunteer and the great people that I've worked with meant that when an opportunity to work with the ACTRFS as well as volunteer came up, I leapt at it." - says Paul.
 
Most recently, Paul was a fire tower operator at One Tree Hill and Mt Coree. In December 2022 until March 2023 Paul kept an eye on the ACT landscape and aided in the early detection of fires. A critical role during the hazard season that offers a reward with exceptional views of the ACT.
 
Paul encourages others who are thinking of volunteering with the ACTRFS to go ahead and give it a go. He says if you are thinking of being a volunteer, you just have to be prepared to commit yourself. If you want to do it well it is a long-term commitment to the fire service, and you must be prepared for that.
 
When not volunteering with the ACTRFS Paul also volunteers his time with his local running club.
 
On behalf of the ACT Emergency Services Agency and the ACTRFS, we would like to thank Paul for his ongoing support and commitment to the service.

Although Paul may now work with the ACT Rural Fire Service (ACTRFS) as a memberships officer, it is his long career as a volunteer with the service that has truly shaped who he is today.