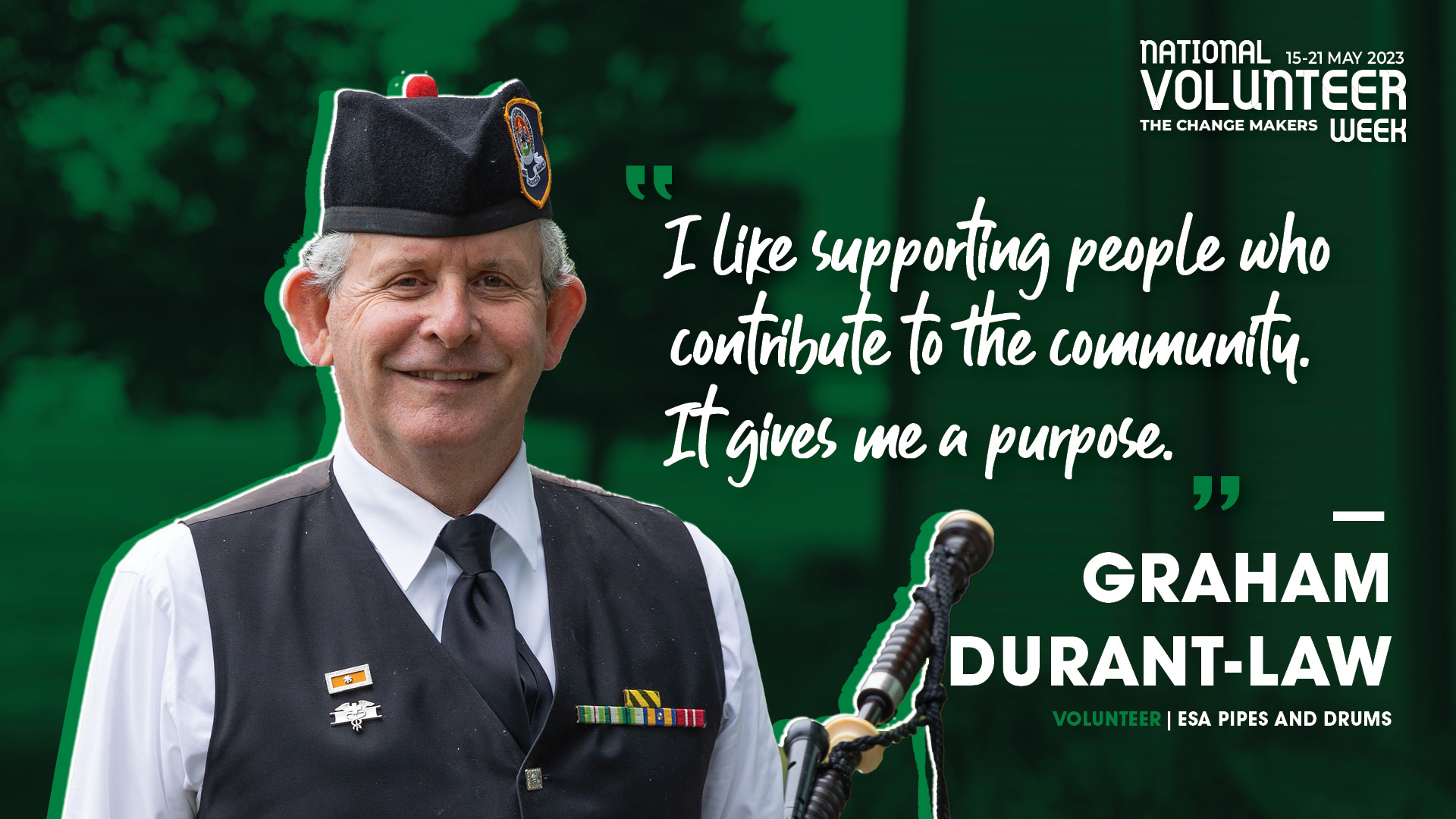 Graham has been a member of the Pipes & Drums band for eight years, which before coming part of the ESA was formally the City of Queanbeyan Pipes & Drums band. For him joining the band and volunteering only seemed natural.
 
As a member of the band Graham plays the bagpipes and leads the band through rehearsals and gigs.
 
For Graham playing the bagpipes, known as piping, is truly a part of who he is. It is his passion. With over 50 years' experience he has played all over the world in places such as Scotland, Canada and New Zealand. He has even played with John Farnham on stage in his song 'You're the Voice.' Despite all this Graham still considers his time playing and volunteering his time with the ESA Pipes & Drums band a highlight of his time as a musician. In his words he likes "supporting people who contribute to the community – it gives me a purpose."
 
A highlight of his time as a volunteer with the ESA is playing for the ACT Fire & Rescue firefighters in the 2022 Ainslie to Everest fundraising event for Lifeline Canberra. Here Graham attempted to play whilst walking a third of a way up the mountain. He says it almost killed him but the joy and motivation that he felt he gave the firefighters made it all worth it.
 
Graham says that he also loves playing at medal ceremonies and celebrations. It is at these events that he gets to meet some extraordinary people that he otherwise wouldn't cross paths with. Just being able to represent the ESA in front of these people to him is a huge privilege.
 
After retiring in 2020 just as COVID-19 broke out, for Graham it only seemed natural to make piping part of his daily routine. All in his capacity as a volunteer, in a single week Graham runs band practice, a learning and development group for the ESA, plays in weekly gigs and gives one on one lessons to those interested in taking up piping. He says if he didn't have a passion for what he was doing there would be no way he could juggle it all. His passion is truly what keeps him running.
 
However, at times his passion has been tested. During the COVID-19 pandemic practices and gigs became non-existent and both Graham and the whole pipes & drums community struggled. Graham tried to hold the community together by running practices over Zoom but it still was not the same. As a result, the band lost many members. It was not long after this however that ESA offered the band a home as members of the ESA. This bought them back to life. Giving them a practice facility out at Hume and gigs that they could play at really gave them all a sense of purpose once again, that without they may have not been able to find.
 
Another reason Graham loves being a part of the band is the community that he has the privilege to be a part of. As Graham says, there is something for everyone in the ESA Pipes & Drums band. Whether you are 80 or 20, whether you're retired or work full-time. The band is somewhere that you can express who you are and be a part of an amazing group of people. You don't have to be the best music player, you just have to have a go.
 
Graham encourages community members, if they are interested in pipes & drums to come and join their band. Come along to their trainings they hold every Wednesday at 5:30pm at the ESA Training centre in Hume. They will teach you to play for free. Being a part of the band can open you up to an array of possibilities in the music world. Previous members have played at the National Folk Festival, The Governer General's daughter's wedding and the Bundanoon Highland gathering, the biggest Highland gathering in the Southern hemisphere. You get to meet some amazing people all whilst doing something you love.
 
Graham's volunteering story is one of passion, a wealth of experience and joy. He truly embodies the 2023 National Volunteer Week theme of 'The Change Makers'. He truly does make a change to the Canberra community bringing them happiness and joy through music, supporting them in both good times and bad.
 
Keep an eye out for Graham and the ESA Pipes & drums band at local events around the community and don't hesitate to say hello.
 
On behalf of the ESA we would like to thank Graham for continuing to give up his time to support the agency.

With bagpipes over 100 years old and experience playing in the infamous Royal Edinburgh Military Tattoo, for Graham Durant-Law being a volunteer in the ACT Emergency Services Agency's (ESA) Pipes & Drums band is truly an experience that gives him purpose and joy.