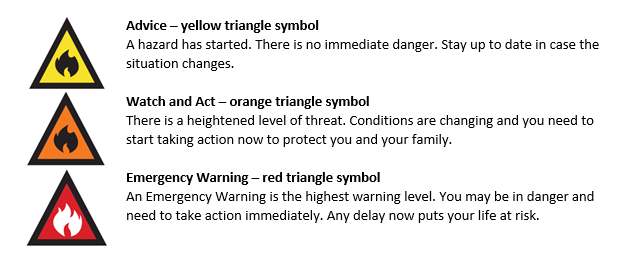 The Australian Warning System is a new national approach to provide information and warnings during emergencies and natural disasters like bushfire, flood, storm, extreme heat, and severe weather.
As part of a new Australian Warning System, the way incidents are displayed on the ACT Emergency Services Agency (ACTESA) website and on Fires Near Me is changing.
The system has been designed based on feedback and research across the country and aims to deliver a more consistent approach to these types of emergencies, no matter where you are.
When the new warning symbols are shown, there may be detailed information about what to do to protect you and your family.
Australia's fire and emergency services aim to provide you with timely and relevant information during emergencies.
Having an Australian Warning System means our communities will receive nationally consistent warnings right across Australia.
From 1 December, no matter where you travel to, you will see the same warning level, symbols and colours used by emergency services to communicate the threat level of a natural hazard.
Community findings over the past two years have indicated confusion around alert levels and their meaning which saw the need for a national approach.
ACTESA Commissioner Georgeina Whelan supports the new look warning system which will provide help transient communities and travellers who move in between state and territory borders.
We hope all communities across the nation will embrace the new look warning system and ensure they have an in-depth understanding of what to look for and what do in the event of an emergency.
An emergency or natural disaster can happen anywhere and at any time. Alerts may be issued at any level depending on the scale of the emergency and not always starting from 'advice' level. Residents should always be prepared as you may not receive a warning in time or at all.
The ACTESA Survival Plan will help you and your family prepare for any emergency all year round. Include Bushfire alerts in your Survival Plan as triggers to leave early or prepare to stay and defend your property to help you make decisions when they matter the most.
Download your Survival Plan today at www.esa.act.gov.au
Statement ends