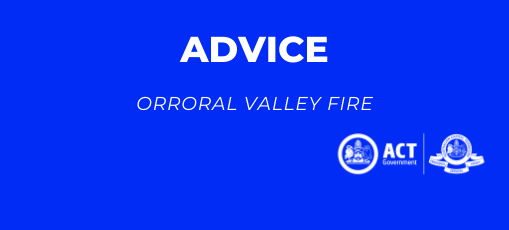 The ACT Emergency Services Agency (ESA) advises that there is still active fire in the area and residents need to remain vigilant.
The fire continues to burn out of control.
The size of the fire is approximately 70, 398 Ha. 
Despite favourable firefighting conditions, the Orroral Valley Fire continued to expand overnight on the western, southern and north-western edges.
Erratic and at times dangerous fire conditions, caused by extreme dryness in the environment, were experienced by fire crews on the ground.
Throughout a challenging night, crews were able to protect all assets in southern Namadgi including the Corin Ski Resort, Brayshaws Hut, Westermans Hut, Lutons Sheering Shed and Waterholes Hut.
The north-east edge of the fire, closest to Tharwa and suburbs of Canberra remained within containment lines overnight. Firefighters monitored three hot spots on the edge of the fire and reported there was no increase in fire activity.
There are no properties under threat at this time.
Call Triple Zero (000) immediately if you or your property are under threat.
Conditions could change and get worse.
Make sure you are prepared. Do not wait to see firefighters or signs of fire to act.
Next update will be provided by 4PM or if the situation changes.


The Orroral Valley Fire is at an ADVICE level bushfire warning.