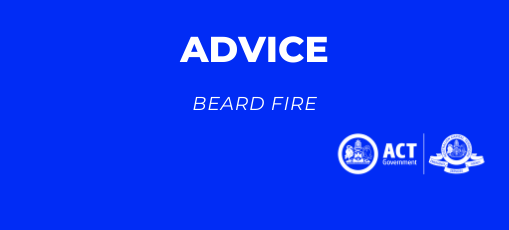 This is an Advice level bushfire warning. People in Beard, Harman, Oaks Estate, Crestwood, Pialligo and Brindbella Business Park are advised to follow information for the Beard Fire.
Current Situation:
The Beard Fire is at patrol status. ACT Rural Fire Service firefighters will continue to patrol the fireground tomorrow to ensure there are no hot spots. Call Triple Zero (000) immediately if you or your property is under threat. The size of the fire is 424 hecatres.
Keep up to date:
Check the ESA website (esa.act.gov.au)
Follow ESA Twitter account (@ACT_ESA) and ESA Facebook account (@ACTEmergencyServicesAgency)
Download and monitor the NSW RFS Fires Near Me mobile app 
Stay tuned to your local radio station Contact Access Canberra on 13 22 81.
For road closures visit ACT Policing Traffic Twitter (@ACTPol_Traffic) or TCCS road closures map (www.tccs.act.gov.au)
This is the final update for this fire, unless the situation changes.