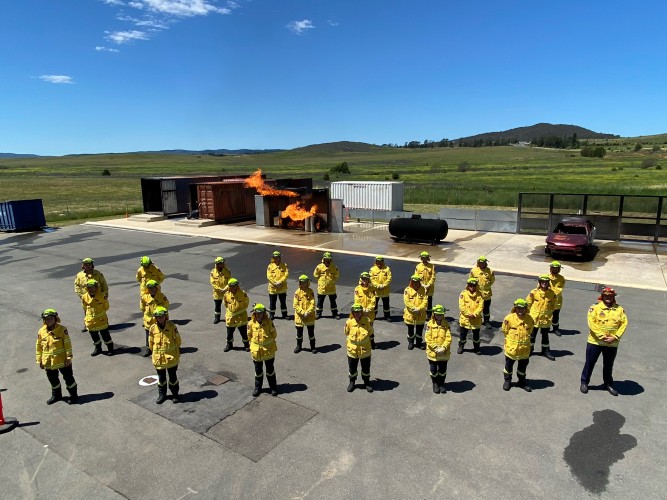 The ACT Emergency Services Agency (ACTESA) has welcomed 48 new recruits in preparation for the current 2020-21 bushfire season.
Minister for Police and Emergency Services Mick Gentleman said the recruits have joined the ACT Rural Fire Service (ACTRFS) in preparation for the current fire season after record community interest to join the fire service in 2020.  
"The recruits have shown great resilience and commitment during their training course, adapting well to training in new ways that adhere to COVID-19 restrictions to ensure the safety of all service members and the community", Mr Gentleman said.
"I would like to thank our experienced ACTRFS members for passing on their knowledge and skills, especially after such a busy fire season.  Their most recent experiences in NSW and our own city will be invaluable in developing the next generation of firefighters.
"I also thank the family, friends and colleagues of these and all volunteers. We know it takes their support and patience to help RFS members do what they do."
ACT Emergency Services Agency (ACTESA) Commissioner Georgeina Whelan said last season was one of the busiest fire seasons on record for ACT and NSW, and our volunteers worked tirelessly to protect the community both in the ACT and across borders.
"The 2019-20 bushfire season continually saw how hard our skilled firefighters and support crews work to keep us safe when bushfires and emergency situations threaten and I offer my sincere thanks and gratitude to all the ACTRFS members for their outstanding efforts", Commissioner Whelan said
"In total, we have increased our rural firefighters by 58 in 2020.  Thank you again to all members of the community who showed interest in being a part of the ACTRFS. Recruitment will re-open in 2021.
"The ACTESA has also recruited 10 additional members with previous firefighting qualifications in operational roles to further enhance bushfire management and response."  
Recruitment will re-open in 2021.  For more information on joining the ACT Emergency Services Agency visit esa.act.gov.au