A State of Alert is in place for rural and remote areas in the south and the west of the ACT.
Information on what this means, what you need to do, support available and service changes can be found below and will be updated regularly.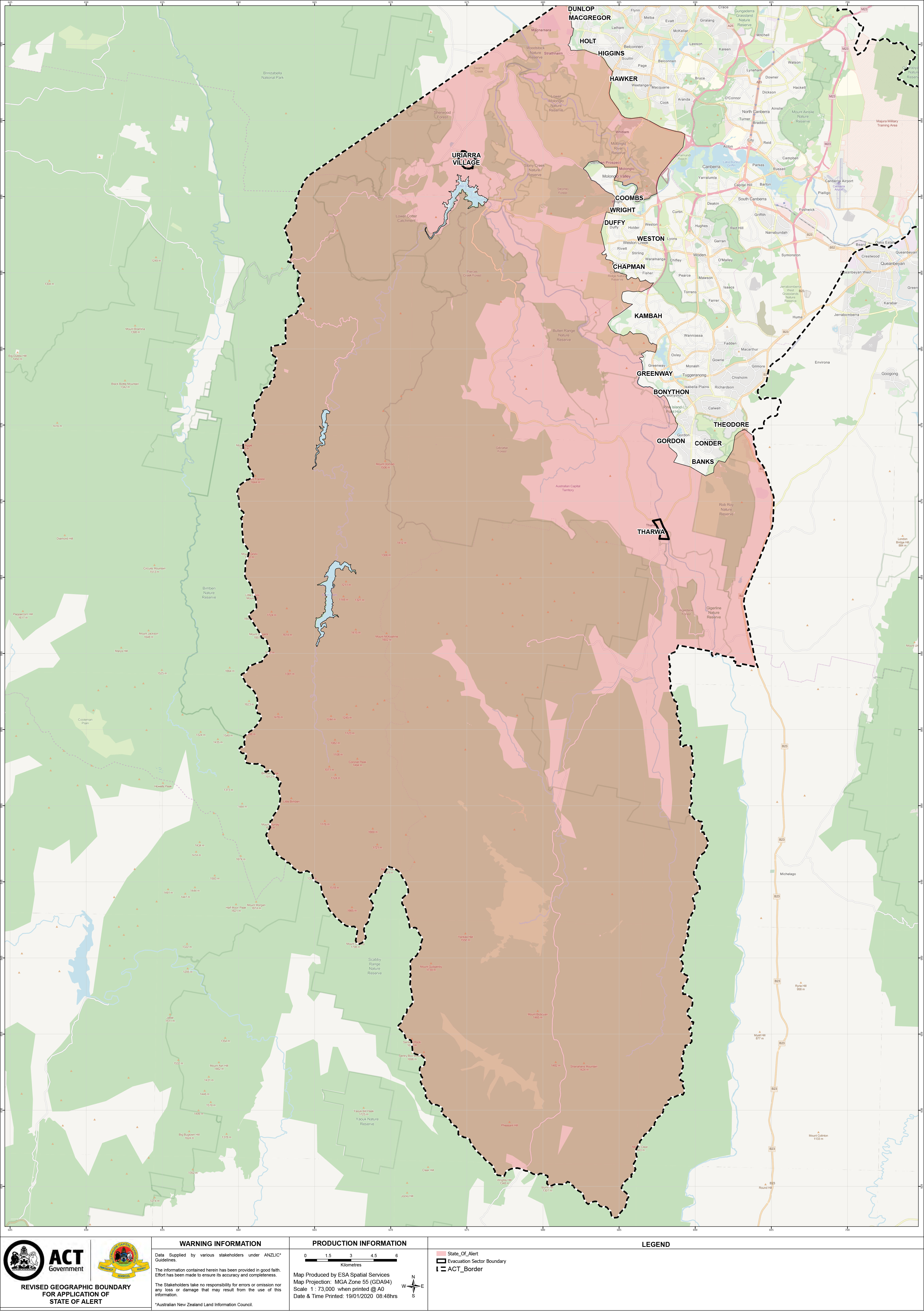 ACT Government support and service changes
With heavy smoke coming and going in the ACT and bushfires currently in the surrounding region, it is important to follow the advice of emergency services and to keep up-to-date on changing conditions via the ACT Emergency Services Agency webpage.
There are changes to a range of ACT Government services including parks and reserves.
https://www.environment.act.gov.au/home/home-news-listing/ongoing-parks-and-reserve-closures2
Other ACT Government services may be impacted and you can visit the following ACT Government websites for up-to-date information:
What are our emergency services doing?
The ACT Emergency Services Agency and ACT Parks and Conservation Service are well prepared to manage any risk that may occur in the ACT.
The ESA is continuing to monitor the situation in the ACT and NSW and support crews across the border where we can.
What we need you to do
Bushfire plan 
The State of Alert means, as a community, we must be prepared.
The State of Alert means, as a community, we must be prepared. While the State of Alert no longer applies to urban areas of Canberra. It is still important to be prepared.
By taking 20 minutes with your family to prepare your Bushfire Survival Plan you could save their lives, and your home.
The Emergency grab and go booklet is also a valuable reference in being prepared.
The plan is just four simple steps: DISCUSS – PREPARE – KNOW - KEEP
Stay informed
For all updates in relation to the State of Alert, continue to monitor the ESA website and follow ACT ESA on Facebook and Twitter.
Access Canberra services visit: www.act.gov.au/accessCBR